Hey Students, read this article and you can download the Application Of Derivatives JEE Mains PYQ pdf. Application Of Derivatives is chapter 6 of class 12 Mathematics and an important chapter for JEE Exams. In this article, you'll find the top 20 applications of Derivatives JEE Mains pdf. You can get a PDF of the question paper. These questions are taken from the previous year's JEE Mains Paper and are important to you. You can follow our blog if you want to save notes, mock papers, and previous year's questions of JEE, Neet, and other competitive exams.
Is the Application Of Derivatives an important chapter for JEE Mains Exams?
The answer is yes, the Application Of Derivatives is an important topic of JEE Mains Exams. You can see the main previous year's questions, you'll find that every year there is something from this chapter's application of derivatives. So, you have to cover the topics of this chapter too, if you are preparing for the JEE Mains Exam. You will find a link below for "Application Of Derivatives JEE Mains PYQ"
Download Previous Year JEE Mains Questions
Chapter-wise Syllabus of Mathematics for JEE Exam
Topics of Application Of Derivatives For JEE Mains
A. Part -1 Rate Measurer & Tangents, Normals
1. Derivative as the Rate Of Change
2. Velocity and acceleration in Rectilinear Motion
3. Differential and Approximation
4. Geometrical meaning of dy, dx, dt
5. Slope of tangent and normal
6. Equation of Tangent and Normal
7. Angle of the intersection of curves
8. Length of tangent, subtangent, Normal, Subnormal
9. Rolle's theorem and Lagrange's Mean Value Theorem
B. Monotonicity, Maxima, and Minima
1. Monotonicity
2. Critical Points
3. Maxima and Minima Of Discontinuous functions
JEE Previous Year Mathematics Questions PDF
In this blog, you'll find chapter-wise jee main previous year mathematics question paper pdf. You can simply save a PDF file of the previous year's question by clicking on the three dots present in Adobe PDF Viewer.
Application Of Derivatives JEE Mains PYQ

 PDF Download

Here is the pdf file of Application Of Derivatives JEE Mains PYQ. You can view pdf files as well as you can simply download the file.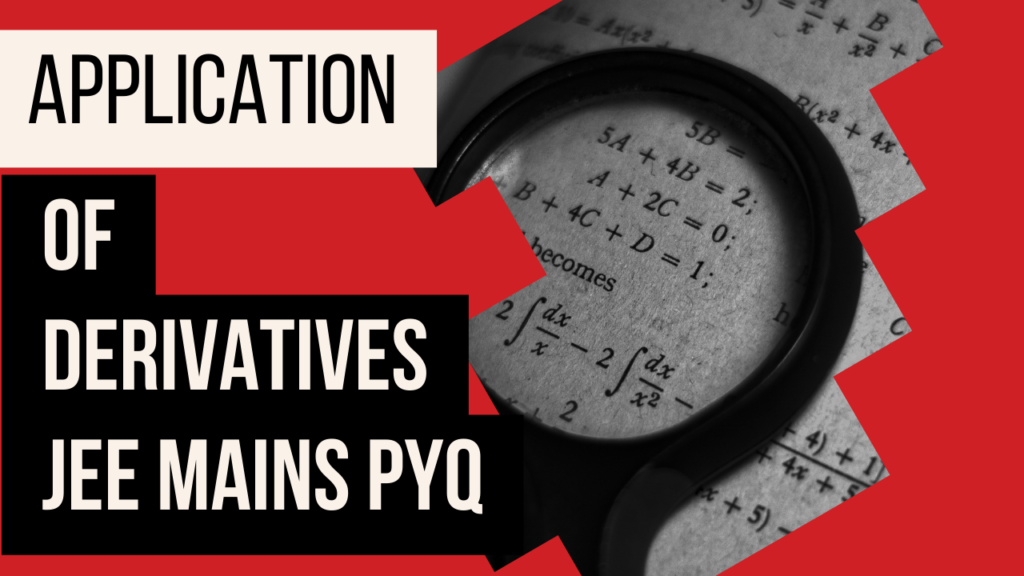 I hope so, you like the article " Application Of Derivatives JEE Mains PYQ". You can find chapter-wise questions for JEE Mains. Download the Application Of Derivatives JEE Mains PYQ PDF by tapping on the three dots(…) mentioned.
Previous Year JEE Mains Questions:-
Chapter 1. SET, Relations and Functions:- Click Here
Chapter 2. Inverse Trigonometric Functions:- Click Here
Chapter 3. Matrices :- Click Here
Chapter 4. Determinants :- Click Here
Chapter 5. ContinuitY and Differentiability :- Click Here
Chapter 6. Application of Derivatives :- Click Here
Chapter 7. Integration :- Click Here
Chapter 8. Application Of Integrals :- Click Here
Chemistry Previous Year JEE Mains Questions
Presented By Chavinesh Mukund