Hey Students, read this article and you'll be able to get amines neet questions pdf. Amines is chapter 13 of class 12 Chemistry and is an important chapter to cover for Neet Exams. In this article you'll find top 20 amines neet questions pdf . You can get pdf of question paper. These questions are taken from previous year Neet Paper and is important to you. You can follow our blog if you want to get notes, mock paper and previous year questions of JEE , Neet and other competitive exams.
Is Amines is an important chapter for Neet Exams ?
Answer is yes , amines is an important topic of Neet Exams. You can see neet previous year questions , you'll find that every year there is something from this chapter amines . So, you have to cover topics of this chapter too, if you are preparing for NEET Exam. You will find a link below for "Amines Neet Questions PDF"
Chapter wise Syllabus of Chemistry for Neet Exam
Topics of Amines For Neet Exams
1. Amines
A. Nomenclature
B. Preparation
C. Physical Properties and Chemical properties
D. Cyanides and Isocyanides
E. Diazonium salts:- Preparation, chemical reactions and importance in synthetic organic chemistry
Neet Previous Year Chemistry Questions PDF
In this blog you'll find chapter wise neet previous year chemistry question paper pdf. You can simply get pdf file of previous year question by clicking on three dots.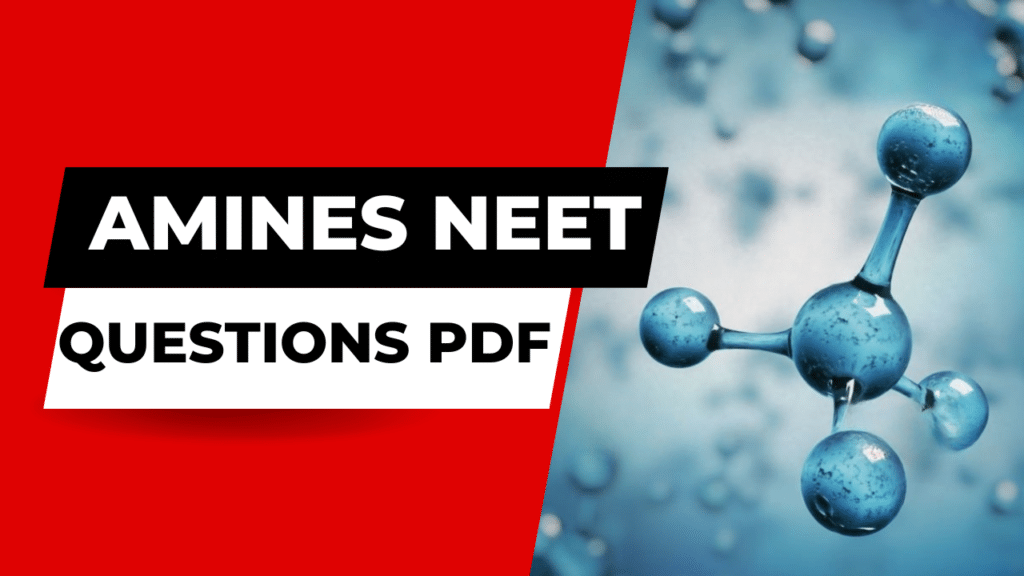 Amines NEET Questions PDF Download
Here is the pdf file of Amines NEET Questions PDF . You can view pdf file as well as you can simply get the file . 
Hope so, you like the article " Amines NEET Questions PDF " . You can find chapterwise questions for JEE Mains and NEET below. Get Amines NEET Questions PDF by tapping on three dots(…) mentioned in the adobe viewer.
Previous Year JEE Mains Questions:-
Chapter 1. Solid State – Click Here
Chapter 2. Solutions – Click Here
Chapter 3. Electrochemistry – Click Here
Chapter 4. Chemical Kinetics – Click Here
Chapter 7. P Block Elements:- Click Here
Chapter 8. D and F Block Elements:- Click Here
Chapter 10. Haloalkanes and Haloarenes:- Click Here
Chapter 11. Alcohol, Phenol and Ether:- Click Here
Chapter 12. Aldehyde, Ketone and Carboxylic Acid:- Click Here
Chapter 13. Amines :- Click Here
Neet Previous Year Chapterwise Questions:-
Chapter 1. Solid State – Click Here
Chapter 2. Solutions – Click Here
Chapter 3. Electrochemistry – Click Here
Chapter 4. Chemical Kinetics – Click Here
Chapter 7. P Block Elements – Click Here
Chapter 8. D and F Block Elements – Click Here
Chapter 9. Coordination Compounds :- Click Here
Chapter 11. Alcohol, Phenol and Ether :- Click Here
Chapter 13. Amines :- Click Here
Chapter 14. Biomolecules:- Click Here
Presented By Chavinesh Mukund